… an article by Jonathan Jones, Art Critic of the Guardian newspaper in the UK and published on his artblog Jonathan Jones on Art.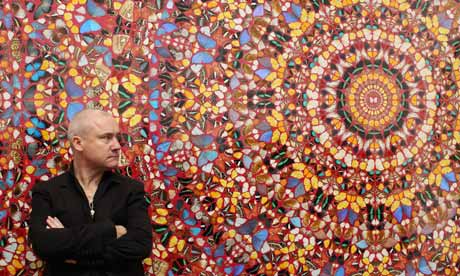 This spring has seen a wave of scepticism unleashed against contemporary, or conceptual, art. We have been introduced to the pleasant term "
con art
" to mean, you guessed it, art that is conceptual … and a con. Some reviews of a certain exhibition at a certain Tate Modern have taken a similar line and,
even in a Guardian editorial
, the contrast between current shows by artists who can make and others who get things made was pondered –
Freud and Hockney being the makers
.
I laugh with scorn at highfalutin attacks on today's art by people who don't actually care very much about the art of the past. I am going to pull rank here. I spent the Easter weekend writing about
Raphael
, examining his
frescoes at the Villa Farnesina
and comparing his work
The Fire in the Borgo
with a passage in
Virgil's Aeneid
. I reckon I give as much attention to the great art of earlier centuries as anyone around, and love it as much as anyone around, and I am quite happy to concede that some of my tastes are "conservative".
There is a lot to dislike in modern art. There are plenty of inflated reputations. There's a bland establishment vogue for it that grates on me – but perhaps what is happening is the end of that vogue. If modern art stops being respectable, that can only be good for it.
But polemics against it are so dull. No, I don't get all the aesthetic satisfaction I crave from the newest art. Why would I expect to? These are tough times, strange times. The best art of our age is bound to reflect that age. We are not imprisoned here. As human beings, we also have access to the heritage of great art going back through the centuries. No one is forcing us to sit around brooding about why
Gillian Wearing
is at the Whitechapel instead of
Beryl Cook
. Why not go and look at
Raphael in the National Gallery
instead? He is so perfect that it is as pointless to compare him with
Hockney
as with
Hirst
.
People who denounce con art are the true con artists, claiming the mantle of the great tradition while sometimes not really loving it, or knowing it at all.
Published on
Wednesday 11 April 2012 on

For information on the art world and what is happening in the art world, click on Jonathan's name at the top of the page or click here. Include this blog on your daily rounds for an informative look at the world of Art.